GARAGE DOOR BROKEN CABLE REPAIR SERVICES
Do you have broken garage door cables? If yes, this can be tricky since cables are a vital part of the equipment and support in the smooth and efficient functioning of the garage door. For every garage door, cable sizes, cable lengths, and cable configurations vary depending on the spring system used.
The spring is responsible for power to open the door while the cables manage the weight of the door as it moves upward and downward. With a broken cable, your door becomes inoperable and requires repair or replacement services to resume functioning.
Garage Door Cable Repair and Replacement Dangers
Since cables are extremely important for operations, their repair and replacement need to be performed with the utmost care. Proper training and tools are required for the same. Only a trained professional must use their skills to handle these parts that are under immense amounts of tension.
It is recommended that you contact a professional garage door repair company to do the needful and not try fixing a broken garage door cable on your own.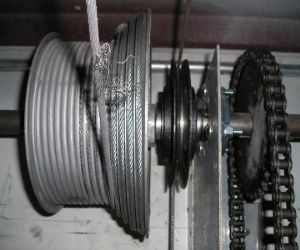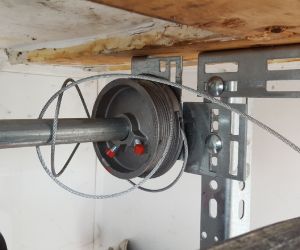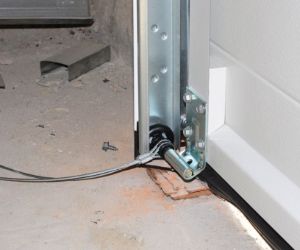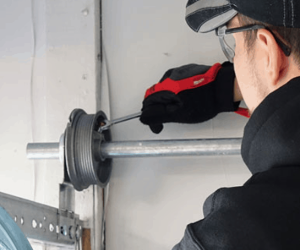 Why do Garage Door Cables need repair?
Garage door cables are made using metal and are typically strong. However, their placement in the mechanism is such that they remain flexible and can be pulled repeatedly through the pulley system or can wrap around drums. This increases the chances of their breakage.
Like most parts of the door, cables undergo severe wear and tear. With time, they lose their strength and ultimately break. You must keep an eye on your garage door cables and check their strength frequently to ensure there is no damage. If you observe any signs of fraying, you must contact us immediately and we will evaluate the condition. One of the other common reasons for broken cables is rust. When rust corrodes cables, they need to be replaced or else they can make the garage door dysfunctional.
If your garage door becomes unlevel, you must inspect the cables. A cable with torsion spring setup generally wraps around the drum causing interruptions in movement. You will notice that one side of the door is holding while moving downward. Cables might also unwind from the drum completely and require reconnection. Please note, reconnecting cables is quite dangerous since the spring is under extreme tension.
In case the door uses an extension spring setup, you must check the pulleys. Cables stop running smoothly when the pulley is worn out. The door will become uneven or get stuck in between. This can mean that the pulley needs to be replaced.